"Mastering Ultrasound Physics"
The Guide to SPI was written to assist sonographers in acquiring proficient knowledge to pass the SPI or physics portion of their credentials exam.
There are over 200 pages and hand-drawn images by a sonographer. A PowerPoint presentation is also available with or without the Review Book to help with visual learners grasp key content and formulas. There is also an extensive test with answers at the end of the book for practice exams.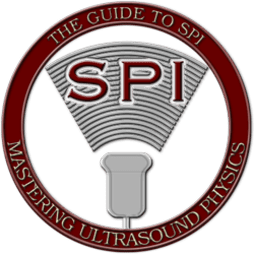 We are proud to have such resources available to registry candidates and are able to share them in our review book, The Guide to SPI, "Mastering Ultrasound Physics".
We also offer segments of the guide for those people who may only need help with particular topics, like transducers or artifacts. All of these topics can be found in our "STUDY HUB". (The Study Hub is under construction right now, so anyone interested in purchasing topics or if you have questions, please contact us at the number above.